A couple of weeks ago I mentioned the possibility of moving in to a very small space, 325 sq. ft. to be exact. It's going to be a big challenge to store and get rid of things that I can't use anymore, so I thought it would be fun to round up some of my favorite inspiration photos from Pinterest (you can find me here) and share them.
This wall makes me feel better about the amount of things I hang on the wall. The difference here, is that most of mine are vintage needlepoint and scientific posters, but I would love to hang some of my patches and pennants! Not to mention this multi-functioning living room. It's a must.
This is just about the cutest thing I've ever seen. I'm always to intimidated to use copper pipe for anything, but I love the way it looks. There's no better way to amp up your bathroom, I think.
I've already gotten the okay from the apartment managers to hang things, even big things like bicycles, on the wall to make this place feel like home. It gets it off the floor, and it helps that it looks so freaking cool. The chair and cabinet aren't hurting my feelings either. I also love the way Kaylah of The Dainty Squid stored her bike in her new apartment.
Since Alex and I are planning to get a loft bed, we better make it feel like its own space, just in case living in one room makes us crazy! I feel like a photo wall (and adorable kitty) will help with that.
Aside from the awesome multi-functioning room, what grabbed my attention in this apartment was the long wall shelf. It allows for decorating and storage, and also keeping breakable things away from hyperactive kitties. I'm thinking of extending a shelf like this into above my bed, so I have somewhere to put my glasses and phone at night.
A side table and display case together?! Dream come true. It also comes in a coffee table! I may try my hand at building one of these, because I know a guy who makes hairpin legs!
I made one of these for our old apartment and loved it. This time, I'll have to make another, much bigger one. My mug collection has grown a lot in the past year, clocking at at 56.
Speaking of hanging kitchen storage, I love this little kitchen in Rachel Denbow's former house. I don't know about you, but I would much rather have my pretty dishes on display than my food boxes. Let's free up some cabinet space!
My love for Rachel's home doesn't stop there. This lady sure knows how to make a room function for multiple activities. I love almost everything about this room.
I've been lusting over this storage basket ladder for about a year now. It's perfect for art supplies, but I'm feeling it for socks and tights!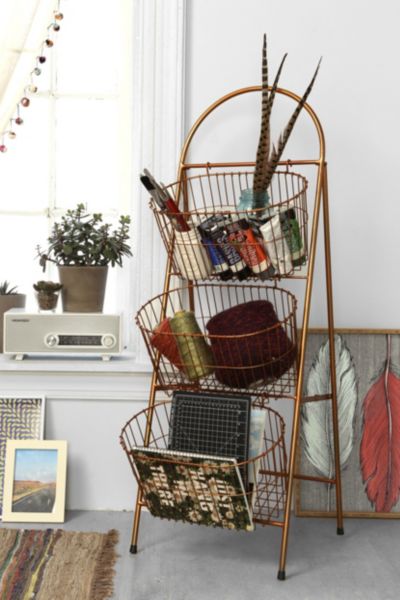 With the amount of things that will be in this room, I think it would be best to keep any art I hang on the walls light, by using things like washi tape, binder clips, and pants hangers. Plus, I won't have to deal with finding frames! I also love a coffee table with a shelf, for remotes and books and things.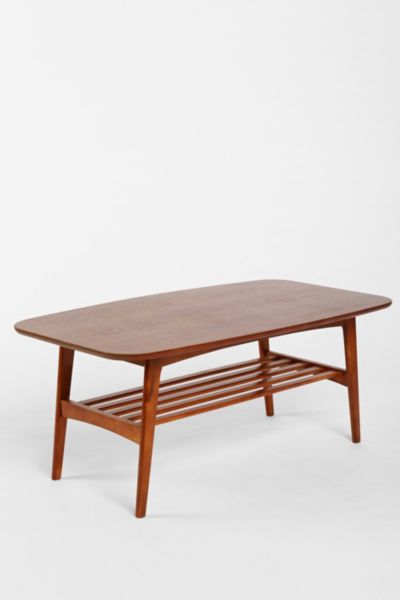 The link above is to an older post by A Beautiful Mess that is super helpful for keeping a small space livable. I reference it all the time!
I'm off to finish some laundry and do some paintings! Have a great Thursday!
xo